THE
KXOL 1360 REUNION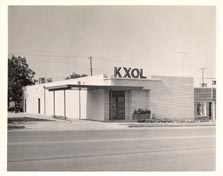 The reunion that was held on October 17, 2001 was a great success! Local and national radio legends attended the first ever KXOL reunion since the station "went dark" in 1985.
I want to thank George Carlin, Roy Eaton, "Bobbin" Bob Allen, David Green, Josh (Rowdy Yates) Holstead, the fine folks at Dos Gringo's and the wonderful employees at the offices of the Tarrant County Democratic Party (the former KXOL studios from 1953-1965) who helped facilitate the reunion.
Former KXOL Newsman, Joe Wills recorded an awesome story recalling his days at 1360. Click here to read it!
PICTURES!
(Click on image for larger view)
For those who took photos and videos, please send copies to me so we can post them on the web page. Contact me at jlpjr@sbcglobal.net